A Few Farts
Gas up without spending a fortune. You won't even need a can of Glade unless you have a really vivid imagination.

Flatulence Films »
Battle of Ages
Play the game that may determine the fate of the world. Execute the plan of a lifetime and all mankind will bow at your feet. Or just play tic tac toe. Hurry man, before there's still time!
Obama Accomplishments
Eight Years and 10 trillion dollars, what have we got to show for it? President Trump! Thank you Bath House Barry. MAGA
Are You a SWAT?
Want to trace your roots back to Poland (or Austria)? Maybe you'd like to share a family moment. Perhaps you're trying to return the power tools you borrowed last year. The Swatkowski family weblog and message center is back. Take a few seconds and let us know what you've been up to lately.
Say What Again
We dare you, double dog dare you. Take Jule's and Vincent's challenge but try real hard not to screw up. Is that a Big Kahuna Burger?

Royale With Cheese »
Share a Laugh
Furniture Physics
This experiment serves to validate accepted theories and beliefs regarding acceleration due to gravity. Materials needed for our tests included a threadbare, three legged sleeper sofa and a duct taped dictionary. The huge book had been used as the couch's fourth leg and for occasional reference.
To collect the desired data, the test furniture and adhesive wrapped dictionary were tossed from the third floor of a six-flat apartment building on moving day. Initially the owner of the couch was somewhat perturbed and failed to recognize the scientific significance of this historic reenactment of Galileo's free fall tests. However, once the true genius of the experiment was understood by all concerned parties, we paid fair market value for the furniture we destroyed.
Ladies and gentlemen behold the Incredible Flying Couch ...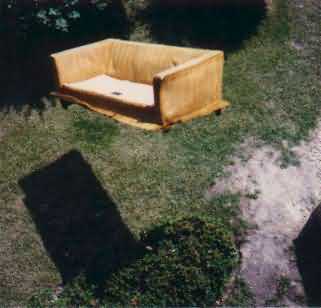 Note the dust ruffle in the above photograph. We did not take into account the potential frictional losses contributed by the rapidly flapping fabric. The aerodynamic drag may have affected the outcome of our experiment to a small degree.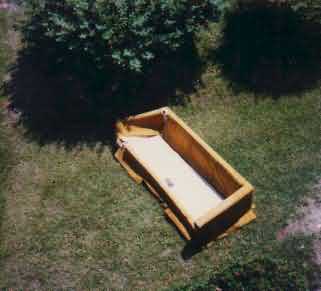 Success! Both test subjects took exactly the same amount of time to fall an equal distance. The book landed just out of the field of view at the precise moment as the flying couch. Intriguingly, the physical properties of the quarter-ton davenport seemed to change to those of a liquid, perhaps being attributed to the sudden deceleration.
No reference books were harmed during this experiment.