All Pigbag Radio
Crank up the All PigBag streaming radio feed, lock your computer, go to lunch. Your co-workers will love you!

We Will Rock You »
Freedom Countdown
Free at last of assclown Obama. Hooray for America
Robot Comic Brain
Our swelling, itching Joke-A-Matic Brain cranks out one liners, limericks and jokes that kill. Like an Austrian Death Machine Terminator on nitrous oxide.

Its NOT a Tumor »
NEXRAD Phoenix Radar
What's more useless than a tanning booth in Arizona? Live weather radar from the Sonoran Valley. Realtime doppler coverage of Maricopa County monsoon activity.
Are You a SWAT?
Want to trace your roots back to Poland (or Austria)? Maybe you'd like to share a family moment. Perhaps you're trying to return the power tools you borrowed last year. The Swatkowski family weblog and message center is back. Take a few seconds and let us know what you've been up to lately.
Share a Laugh
Target Shooting And Precision Plinking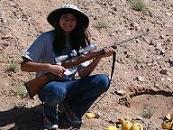 Many years ago a well placed rifle shot brought home a Thanksgiving turkey from a Lion's Club sponsored target competition. Who would have guessed that thirty years later a new hobby would blossum from a similar .22 caliber rifle. As it turns out, plinking in the desert is a blast. Now we routinely hurl hot lead down range at paper targets, citrus fruit, spuds, tin cans and undocumented border crossers ( kidding ).
Like so many fledgling shooters we started with a Ruger 10/22. Ours is stainless with a 22 inch barrel. Lots of folks will swear the 10/22 is a tack driver, but in our experience it is an average rimfire rifle without some aftermarket tweaking. The kids had some issues with the factory bolt and magazine release mechanisms. Favorite ammo is hot 30 grain Aguila Supermax. The Aguila round cycles reliably where lesser powered cartridges sometimes fail to eject properly. That aside, the Ruger is a great value when it comes to plinking fun per dollar.

A dozen firearms later we are sticking with the 22's. Long rifle, shorts, magnums, colibri, hornets, fireballs and .223 calibers fill various target and varmint shooting requirements. Remington, Savage, Marlin, Keltec, Taurus, Howa and of course the Ruger pieces are regularly pressed into service seeking the ellusive single ragged hole, lemon or tin can. They all make short work of reactive targets strewn about the desert.
We have a gun range nearby that is a favorite place to shoot paper and steel targets. They have rimfire, high power rifle, pistol, air gun and practical ranges available. We developed a Bullet Bowling competition there that is a fun test of marksmanship. The idea is to score as many points as you can with twenty five rounds shot at 2 inch bullseyes and tiny paper bowling pin targets. You can download a Bullet Bowling target HERE. Take the KLorg! shooting challenge. Maybe you can shoot a perfect game.

The target pictured represents the best effort to date. It was a perfect spring day with almost no wind. Five shots were taken from a concrete bench with no rest on the 100 yard rifle range. The gun is a Remington 597M chambered in 22 WMR with a heavy barrel and laminated stock. Its as nice to look at as it is to shoot. Its a semi-automatic, but there aren't too many bolt action target pieces that will shoot better.
The latest addition to the target shooting collection is a Chiappa ( MKS ) 1911 pistol chambered in .22 long rifle. The new handgun is relatively historically accurate and quite reliable with adjustable sights and walnut grips. It shoots a wide variety of high velocity ammo and is an outstanding performer firing CCI mini mags on the 25 yard pistol range.
Shooting is a fun family hobby that can get the adrenaline flowing as it rewards safety, responsibility, discipline and self control. Plus, your whole family will be prepared for any potential insurgency or zombie attack.