NEXRAD Phoenix Radar
What's more useless than a tanning booth in Arizona? Live weather radar from the Sonoran Valley. Realtime doppler coverage of Maricopa County monsoon activity.
Scott Swat TV Webcams
Incredible live images of the whole family in various compromising positions. Watch Dave raid the refigerator or catch Liz enjoying the big screen.
All Pigbag Radio
Crank up the All PigBag streaming radio feed, lock your computer, go to lunch. Your co-workers will love you!

We Will Rock You »
Share a Laugh
Arizona Angling

Believe it or not there are quite a few lakes within an hours drive from the East Valley. There is a fishable portion of the Salt River less than ten minutes away. The lakes are stocked regularly with trout and catfish.
We were able to get started with four fishing poles and tackle for under a hundred bucks. Inexpensive rod and reel combinations like the Zebco Rhino or Classic 33 work well and cost between $20 and $40. Almost any ball bearing reel paired with a light to medium action rod will handle an amazing variety of fishing scenarios. We like the spincast reels because they are easy to use and reliable.
Recently I purchased a bait casting reel and have made several sweet bird's nests of fishing line trying to get the hang of casting with this infernal contraption. I'm sure it can be done, but it will take serious practice on my part.
Desert Bait Digest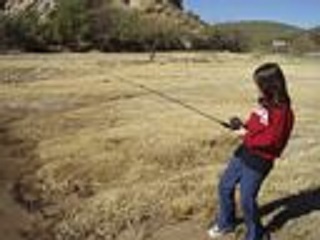 Productive baits include Hebrew National hotdogs, cheddar cheese, nightcrawlers and some select lures and artificial bait. We've had our best luck to date with little chunks of Kosher all beef franks. Perhaps those folks do answer to a higher authority. Popular artificial baits like Berkley meal worms and Aaron's Magic salt worms have proven effective, yet not as productive as common "refrigerator" bait.
Results may have something to do with the venue, as our convenient lake is rather urban and these fish have access to a virtual deli assortment of feed choices. Bottom line, ( no pun intended ) fishing is a great way to spend family time, though the wife may opt out of some spin casting expeditions. She apparently appreciates the quiet time more than a fighting Bass.