Find Fun Fast
So you followed the links in the yellow navigation band above and still can't find the Holy Grail of fun? Type a keyword into the search box and tune your browser for maximum stupidity.
Geek Bike Light
Build your very own geeky bicycle lighting system on the cheap from parts easily obtained at Home Depot, Radio Shack and the corner convenience store. Simple step by step tutorial.
Nuke-A-Bama
Britney Bares All
Recent queen of the crazies, tabloid target Britney Spears is caught by our intrepid drug sniffing dogs in yet another career compromising episode.

Bimbo Exposed »
KLorg! Opinion Polski
Iraggian terrorists have kidnapped your pet and are demanding you make a personal sacrifice in return for the pet's release. What would you be willing to do to secure the safety of your beloved friend?
Share a Laugh
97964 laughs
Vienna Sausage Revealed
These tiny cocktail weiners are so much more than mere spongy meat logs. Vienna sausage live and breathe as you and I, despite persecution throughout history. Extensive examination of world politics and religion has revealed these potted meat potentates to be a single binding factor among many theories and theologies. Take a moment to explore and understand the secrets of the sausage.
Arizona 1070 Bus Lines
Thanks to a bloated and poorly managed government program, convicted gang members were able to start a transportation firm that can resolve Arizona's illegal alien problems. This free bus service may help you avoid Sheriff Joe's tent city. If you're in AZ without proper documentation, California welcomes you!
Interactive Psychic Burrito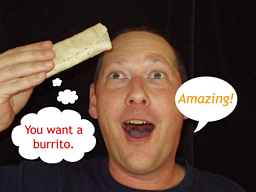 Build the perfect burrito with your favorite toppings. Place your order and the Psychic Burrito will tell your fortune and accurately predict what the future holds for you.
Three Minute Web Games
Take a break from work or while in the office and play a quick stress relieving game. Enjoy our online games undetected by the bandwidth police. Hit the slopes at your desk or blast away at the bad guys without embarking on a trip to the Middle East.
Pocket Carrot Video
KLorg nutritionists have partnered with a world renouned dietitian and turned the food pyramid sideways to provide a court mandated community service. Please watch our PSA and help get this Federal judge off our backs.
Birthplace of Interactive Humor
The first early humoroid paintings were discovered accidentally in pre-revolutionary France during a typical surrender to Celtic invaders. Deep inside the caves at Lascaux ancient hunter-artists painted pictures of early interactive humor on the walls. Experts believe this primitive drawing depicts a prehistoric "hot foot".
In the 1740s Juhav Toulaffe categorized five types of humoroid interactivity that are prevalent even today in modern web sites. The first is backside humor - humor related to excrement and flatulence (poop and fart jokes). Next is humor at the expense of others - humor derived by subjecting another being to the brunt of an action. Fifth is general humor - who scored several decisive victories in Austria during the First World War.
The creators of KLorg! embrace Toulaffe's research and strive to provide all five categories of humor to our visitors. Click on any one of the Specialty links on this page and experience what has been termed funny, useless and just plain stupid.
Tongue Twisting Translation
Fahrten is not offensive in some countries, even in an elevator. Did you just ask the waiter for ice water or horse liver? Be prepared for your next overseas adventure. Take the KLorg! phrase translation quiz and show the world you're not umday in any language.
Silly Sound Bytes
Sample our web auditorium chock full of .wav PC audio files, sound bytes, movie clips and downloadable music from the Big Jags Live collection. Featuring sound track clips from the movie Tommy Boy.
Best Viewed
This interactive humor web site is best viewed with a Java and Macromedia enabled web browser at minimum resolution of 1024 X 768 pixels after several adult beverages and / or some prescription pain killers. KLorg is packed with interactive games, humor and media miscellany, deemed useless and sleep inducing by industry experts.